Conversation and Book Signing with Fred Gray, Esq.
April 5, 2019 | Philadelphia | Duane Morris LLP

Please join us for a conversation and book signing with Fred Gray, Esq., noted trial attorney, minister and former elected official who represented Dr. Martin Luther King, Jr. and Rosa Parks and argued a number of landmark civil rights cases, on Friday, April 5, 2019, from 3:30 p.m. to 7:00 p.m. at Duane Morris' Philadelphia office.

Opening Remarks: Matthew A. Taylor, Chairman and Chief Executive Officer, Duane Morris LLP
Welcoming Remarks on Behalf of the City of Philadelphia: Nolan A. Atkinson, Jr., Chief Diversity & Inclusion Officer, City of Philadelphia
Discussion with Fred Gray: Joseph K. West, Partner and Chief Diversity & Inclusion Officer, Duane Morris LLP
Fred Gray's books, Bus Ride to Justice: The Life and Works of Fred Gray and The Tuskegee Syphilis Study, will be available for purchase and signing.
Event Photos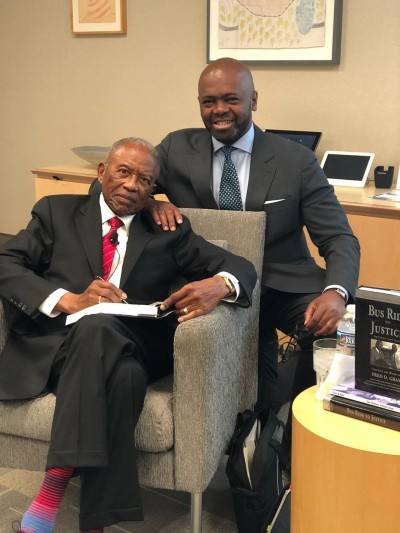 Fred Gray (left) and Duane Morris Chief Diversity, Equity and Inclusion Officer Joseph K. West (right).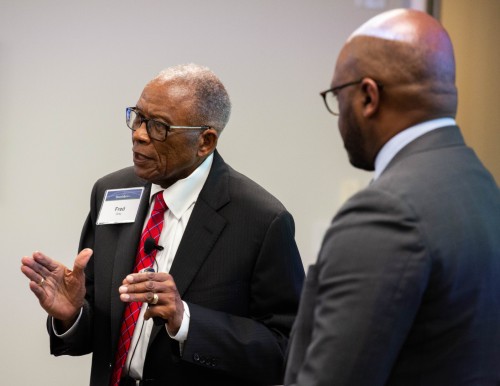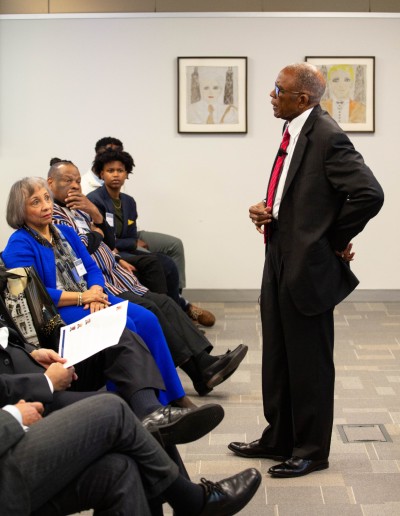 About Fred Gray
Fred Gray grew up in Montgomery, Alabama, and had to leave the state to finish his education because blacks could not then attend Alabama law schools. He returned to his hometown in 1954 and became one of two black lawyers in the city. He was, he writes, "determined to destroy everything segregated that I could find." He did not have to wait long. When his friend Rosa Parks was arrested in 1955 for violating the segregated seating ordinance on a Montgomery bus, 26-year-old Martin Luther King, Jr. was chosen to lead the Montgomery Bus Boycott, and 24-year-old Fred Gray became his—and the movement's—lawyer. Gray's legal victory in the federal courts ended the boycott 382 days later.
Over the decades since, Gray's landmark civil rights cases can be found in most constitutional law textbooks, including: Browder v. Gayle, which integrated the buses in the city of Montgomery, 1956; Gomillion v. Lightfoot, which opened the door for redistricting and reapportioning legislative bodies across the nation and laid the foundation for the concept of "one man, one vote," 1960; William v. Wallace, which resulted in the court's ordering the state of Alabama to protect marchers as they walked from Selma to Montgomery to present grievances as a result of being unable to vote, 1965; Mitchell v. Johnson, one of the first civil rights actions brought to remedy systematic exclusion of blacks from jury service, 1966; and Lee v. Macon, which integrated all state institutions of higher learning in Alabama under the control of the state Board of Education, as well as most elementary and secondary school systems. Gray also served as counsel in preserving and protecting the rights of persons involved in the infamous Tuskegee Syphilis Study. He has been the moving force in the establishment of the Tuskegee Human and Civil Rights Multicultural Center, which serves not only as a memorial to the participants of the study, but also educates the public on the contributions made in the field of human and civil rights by Native Americans and Americans of African and European descent. It also educates the public on a brief history of the civil rights movement from slavery to the present.
Gray holds numerous honorary degrees. He is a member of the board of trustees of the Alabama Department of Archives and History. He is a fellow of the American College of Trial Lawyers and of the International Society of Barristers. He is the first person of color to be elected president of the Alabama State Bar Association, serving as its 127th president. Gray has been recognized with numerous awards, including the American Bar Association's Spirit of Excellence Award in 1996; the Minority Caucus of the Association of Trial Lawyers Award in 2003; and Harvard University Law School's Charles Hamilton Houston Medallion, the American Bar Association's Thurgood Marshall Award and the Federal Bar Association's Sarah T. Hughes Civil Rights Award, all in 2004.
About the Speakers
Matthew A. Taylor is Chairman and Chief Executive Officer of Duane Morris LLP and also serves on the firm's Executive Committee. Taylor practices in the area of commercial litigation, handling matters in state and federal courts across the United States. Mr. Taylor also represents corporate boards and individual corporate officers and directors in internal and government investigations and related proceedings. He is an active trial lawyer dealing with matters in banking and securities law, RICO, corporate governance, commercial real estate, computer software and hardware, product liability (with a concentration in medical devices), and corporate directors and officers liability and indemnification.
Nolan N. Atkinson, Jr., is the City of Philadelphia's first Chief Diversity & Inclusion Officer. Prior to his appointment by Mayor Kenney, Atkinson was a member of the Trial Practice Group at Duane Morris and was appointed the firm's Chief Diversity & Inclusion Officer in 2007. His award-winning, innovative programs in the field of diversity have resulted in making the firm a more inclusive organization. Mr. Atkinson is the former chair and a founder of the Philadelphia Diversity Law Group, Inc., a group of law firms and corporations committed to increasing ethnic and racial diversity in Philadelphia's larger law firms.
Joseph K. West is a partner in the firm's Trial Practice Group and practices in the area of complex litigation, handling a variety of matters in areas including, but not limited to, class actions, insurance litigation, commercial litigation, zoning and land use, catastrophic injury, products liability, and labor and employment. Mr. West is also a member of the firm's Partners Board and serves as the firm's Chief Diversity and Inclusion Officer, in which capacity he manages Duane Morris' comprehensive firmwide diversity and inclusion program. He also chairs the firm's Diversity and Inclusion Consulting Practice, which has been cited for its innovative approach to crafting sustainable diversity and inclusion programs and solutions for companies.
About the Duane Morris Diversity & Inclusion Program
Duane Morris manages its Diversity & Inclusion Program with the objective of utilizing the best talent worldwide in solving legal problems. The firm recruits a diverse pool of lawyers that collectively possess an awareness of cutting-edge 21st century issues—legal, social and economic—for which clients require solutions. Because diversity management is integral to the core business of our management and each of our practice groups, our programs for the recruitment, retention and promotion of historically minority groups will continue and grow. The firm's attorneys and its leadership believe in accentuating the added value that diverse attorneys possess and generating profitable new business opportunities from this added value.