Duane Morris Celebrates Pride Month
June 1, 2020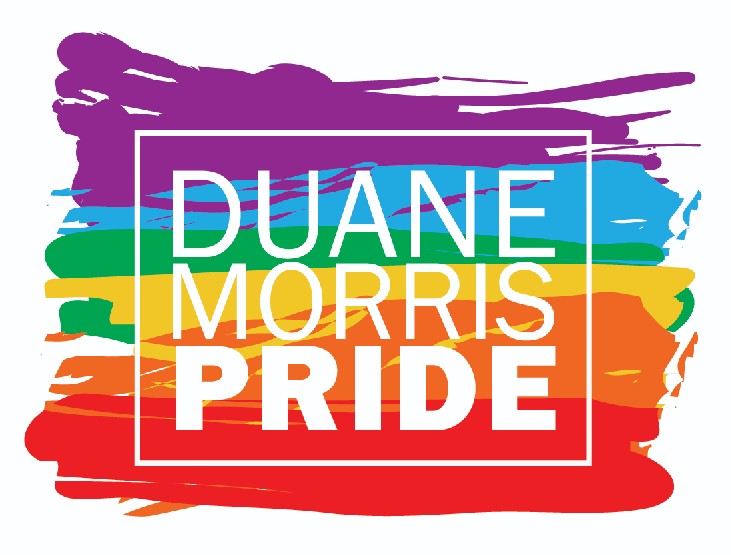 Duane Morris and our attorneys support and participate in the LGBTQ community through our roles in networking groups, law associations and nonprofit organizations, as well as via pro bono assistance. Duane Morris Pride, part of our Diversity and Inclusion program, helps create awareness and visibility for LGBTQ persons, allies and issues within our firm. We are proud to celebrate Pride Month and share some highlights of our accomplishments and endeavors.
"Best Place to Work for LGBTQ Equality" by Human Rights Campaign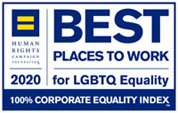 For the third consecutive year, Duane Morris received a score of 100 percent on the Human Rights Campaign Foundation's Corporate Equality Index (CEI), the nation's premier benchmarking survey and report measuring corporate policies and practices related to LGBTQ workplace equality. Duane Morris LLP joins the ranks of more than 680 major U.S. businesses that also earned top marks this year.
The results of this year's CEI showcase how 1059 U.S.-based companies are not only promoting LGBTQ-friendly workplace policies in the U.S., but helping advance the cause of LGBTQ inclusion in workplaces abroad. Duane Morris LLP's efforts in satisfying all of the CEI's criteria earned a 100 percent ranking and the designation as a Best Place to Work for LGBTQ Equality.
The 2020 CEI rates companies and top law firms on detailed criteria falling under five broad categories:
Non-discrimination policies
Employment benefits
Demonstrated organizational competency and accountability around LGBTQ diversity and inclusion
Public commitment to LGBT equality
Responsible citizenship
In 2019 and 2018, Duane Morris also earned a 100 percent score on the CEI and the distinction of being one of the "Best Places to Work for LGBTQ Equality."
Tom Homann LGBT Law Association: Friends of the Community
Duane Morris is proud of our longstanding relationship with the Tom Homann LGBT Law Association. Several of our attorneys have served in leadership roles with the organization. Edward Cramp serves on the THLA Foundation board of directors and has been a member since 2018. And two of our attorneys—Patricia Hollenbeck and Jennifer Kearns—have received the annual "Friend of the Community Award," which is presented to people who have made a positive impact in San Diego and the lesbian, gay, bisexual and transgender (LGBT) community in particular.
Supporting GLAAD's Spirit Day

On Spirit Day, Duane Morris turns its website purple to support LGBT youth and the Gay & Lesbian Alliance Against Defamation's (GLAAD) anti-bullying campaign. The Daily Report's ATLaw Blog recognized that Duane Morris led the way among law firms in this consciousness-raising effort, being the only firm listed as a participant as far back as 2012. Since then, other law firms have joined Duane Morris and the many well-known companies who pledge to go purple each October.
Pro Bono Support for Hetrick-Martin Institute
Hetrick-Martin Institute (HMI), the nation's oldest and largest LGBTQ youth services agency, fosters healthy youth development through a comprehensive package of direct services and referrals concerning education, healthcare, mental health, homelessness, economic empowerment and more. Duane Morris is proud to support HMI and its mission, and our attorneys have assisted HMI pro bono on numerous legal and regulatory issues, such as updating its employee handbook, negotiating and drafting a cause marketing agreement with a worldwide cosmetic company, and drafting legal documents for licensing its intellectual property, know-how and services to its first federated partner, HMI: New Jersey.
Asylum for LGBTQ Individuals Fearing Persecution and Death
Daniela—a 35-year-old transgender woman from Honduras—survived kidnapping, torture and death threats due to an imputed political opinion and membership in the Freedom and Refoundation Party (LIBRE) as well as support of President Manuel Zelaya during the 2009 coup. She was a television editor and photographer for a local news station. In addition, our client faced death threats and physical and sexual abuse for her transgender identity. Kidnapped by masked men, suffocated, threatened with dismemberment by machete and enduring significant psychological torture, our client and a fellow journalist reported the abuse to the police and various human rights organizations, including the Inter-American Commission on Human Rights. Nevertheless, no prosecution occurred. She moved continuously for two years to avoid being caught until ultimately, her persecutors— members of the government regime—caught and repeatedly stabbed her with a knife. Her fellow journalist was murdered, and reports of our client's supposed murder were spread throughout the news and social media. Daniela fled to the United States and immediately claimed asylum. Upon entering the United States, Daniela was detained by Immigration and Customs Enforcement in an all-male facility in southwest Texas, despite her statements that she identified as female.
Working in collaboration with Immigration Justice Campaign and the Lawyers' Committee for Civil Rights Under Law, Duane Morris attorneys stepped in to quickly assist Daniela in defending her asylum application. Although initially housed with other transgender women, she feared being held in solitary confinement if she were the only transgender woman remaining in the detention center.
Arguing that Daniela was subject to past persecution based on her role as a journalist and imputed political opinion during the coup and arguing that Daniela reasonably feared future persecution because of her journalism and her status as a transgender woman, attorneys in Duane Morris' New York and Philadelphia offices successfully persuaded the immigration court to grant her asylum, withholding of removal and protection under the United Nations Convention Against Torture. The case was additionally complicated due to fears that a couple of past arrests would undermine her credibility and that the government potentially would argue she was firmly resettled because she lived in a third country for a short period of time (without the ability to secure legal status).
Now happily reunited with her father, Daniela is living and working in California. Attorneys continue to represent Daniela in applying to have her minor son join her so that he too may live a life of safety. Daniela continues to advocate for transgender immigrant women's rights.
Erika—a 24-year-old transgender woman from Honduras—was abused as a child by her family because of her female gender identity and was kicked out of her family home at only 12 years old. She then moved to a shelter for homeless youth, where she was assaulted by an employee. At 14, she ran away and was forced into sex work. Erika was assaulted many times prior to her 18th birthday, and experienced one of her friends— also a transgender woman—being murdered. Erika sought assistance from the Honduran National Police several times, but the police mocked her and refused to investigate the crimes or even to take down a report.
At 18 years old, the Honduran government unlawfully denied Erika government identification that would allow her to seek employment because she presented as a woman. As a result, Erika again was forced into sex work to earn any money for food and shelter. Thereafter, Erika was attacked by a man with a butcher knife on the streets of San Pedro Sula, Honduras, when he learned that she had male sexual organs. The man cut Erika's back from neck to waist and then attempted to stab out her breasts. Before being scared away by a passing car, the man threatened to burn her client alive. Erika sought treatment at a local emergency room, which hastily stitched up the wounds and forced her out immediately because they did not want a transgender woman in their files. The hospital assumed Erika had AIDS because she was transgender.
After the police again refused to assist Erika, she fled to the United States, where she legally presented herself at the Laredo, Texas, port of entry and applied for asylum. With help from litigators from Duane Morris' Philadelphia office, Erika was granted asylum and released the next day. She now lives in Houston and hopes to be an advocate and positive example to fellow transgender women and survivors.
Champions of the Community
Duane Morris attorneys serve or have served in organizations supporting the LGBTQ community, including:
American Civil Liberties Union (ACLU)
Bay Area Lawyers for Individual Freedom
Equality Advocates Pennsylvania (formerly Center for Lesbian and Gay Civil Rights)
Human Rights Campaign
Immigration Equality
Independence Business Alliance—Greater Philadelphia's LGBT Chamber of Commerce
Lawyers' Committee for Civil Rights of the San Francisco Bay Area
The LGBT Bar Association of Greater New York
Mama's Kitchen, San Diego
Mazzoni Center for LGBTQ Health & Well-Being
National LGBT Bar Association
New York Civil Liberties Union
Our Fund Foundation of South Florida
Philadelphia Diversity Law Group
Tom Homann LGBT Law Association
Washington Peace Center
About Duane Morris
Duane Morris LLP provides innovative solutions to today's multifaceted legal and business challenges through the collegial and collaborative culture of its more than 800 attorneys in offices across the United States and internationally. The firm represents a broad array of clients, spanning all major practices and industries.