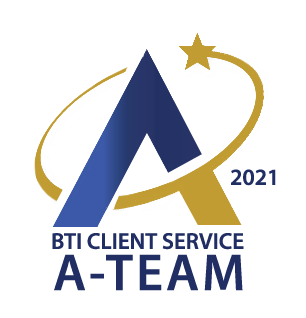 PHILADELPHIA, March 31, 2021—Duane Morris LLP has been named to the BTI Client Service 30: Best of the Best in Client Service Delivery. The designation, part of BTI Client Service A-Team 2021: Survey of Law Firm Client Service Performance, marks the firm's first appearance among what BTI Consulting Group considers the "elite firms that outperform everyone else" in terms of client service. According to the BTI research, Duane Morris is ranked at No. 14 among the 650 core law firms that serve Fortune 1000 and large private clients.
Based on BTI's annual survey of a broad cross section of over 350 general counsels and associate general counsels at the nation's largest corporations and private companies, the report describes Duane Morris as steadily climbing the rankings over the past five years and now "blazing into the top half of the BTI Client Service 30." Duane Morris is also one of only 70 firms identified by legal decision-makers to substantially improve its client service performance in 2020, during a global pandemic, and hailed as one of the 10 firms with "excellent improvement" during this most challenging year. Overall, Duane Morris was recognized as "the best of the best in providing value" by survey participants.
"We've always been focused on delivering the best of Duane Morris to our clients. The events of 2020 really galvanized our relationships, as we were working together and partnering with clients and addressing needs via user-friendly, actionable advice," said Duane Morris Chairman and CEO Matthew A. Taylor. "We are pleased to be recognized for our efforts by both BTI Consulting and our clients, and we're not going to stop innovating."
BTI's report notes that, "Alongside Best of the Best distinction in providing value, Duane Morris stands out as a Leader in 8 of the 17 activities clients look for in a superior client service performance. The firm has been investing in its client service, client teams, and industry initiatives—clearly recognized and appreciated by clients."
Additional client comments include:
"They have a strong focus on understanding the business and what we need, as well as partnering well with business and leadership."
"They have a ton of global resources, can scale up, are very responsive, and offer a single relationship manager."
"They provide clarity of communications and practicality of recommendations."
According to BTI's in-depth interviews with general counsels and other in-house legal officials, only 282 law firms—down from 340 last year—were singled out by legal decision-makers for their prowess in at least one of the 17 activities driving superior client relationships. The activities include: advising on business issues; unprompted communication; fielding the absolute best team; understands client's business; mobilizes resources quickly; quickly assesses the situation; client focus; provides value for the dollar; commitment to help; anticipates client's needs; innovative approach; deals with unexpected changes; quality products; legal skills; keeps clients informed; handles problems; and meets core scope.
About Duane Morris
Duane Morris LLP provides innovative solutions to today's multifaceted legal and business challenges through the collegial and collaborative culture of its more than 800 attorneys in offices across the United States and internationally. The firm represents a broad array of clients, spanning all major practices and industries.