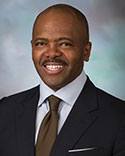 Joseph K. West
WASHINGTON, D.C., May 30, 2019—Duane Morris Trial partner and Chief Diversity and Inclusion Officer Joseph K. West will be the inaugural recipient of Chambers and Partners' Lifetime Achievement Award: Diversity & Equality. He was selected for his commitment to furthering the advancement of diversity and inclusion. West will be honored at the 2019 USA Chambers Diversity and Inclusion Awards on June 6, 2019, in San Francisco.
"This is a tremendous honor for Joe, and I'm not surprised that Chambers selected him to be their first recipient of this award," said Matthew A. Taylor, CEO and Chairman of Duane Morris. "Joe's impressive career reflects not just his accomplishments in the courtroom as a talented trial attorney, but also his commitment to advancing diverse attorneys in the profession. Duane Morris attorneys and clients have benefited from Joe's tireless pursuit of diversity and inclusion since he joined us in 2016, and we're thrilled to see Chambers recognize his commitment to this important work that benefits our entire industry."
Video: Chambers D&I - Joseph West from Chambers and Partners on Vimeo.
"I'm both humbled and honored to be the first person chosen for this award," said West. "The legal profession has come a long way in opening up opportunities for diverse lawyers, but there is still much more work to be done. Collectively, we have to do a better job of reaching out to historically under-represented populations in our profession and then retaining our diverse talent once they join us. That will come over time by intentionally recruiting diverse lawyers and including them in the fabric and leadership structures of their organizations."
West has more than 30 years of experience practicing law, including more than 25 years in litigation, business and advisory roles—both in-house and in law firms. Previously, he served as in-house counsel for Walmart, managing outside legal resources, coordinating more than 600 law firms and overseeing a budget of more than $300 million. Earlier in his career, West served as assistant general counsel – litigation for New Orleans-based Entergy Corporation. Prior to joining Duane Morris, West spent more than four years focused on diversity and inclusion within the legal profession as president and CEO of the Minority Corporate Counsel Association (MCCA).
As Duane Morris' chief diversity and inclusion officer, a role he has held since 2016, West manages the firm's comprehensive diversity and inclusion program, speaks widely on diversity and inclusion topics and provides consulting services to help companies create sustainable diversity and inclusion programs and solutions.
West serves as an appointed member of the ABA Council on Legal Education and Admissions to the Bar, the body that oversees law school accreditation and bar admissions nationwide. He is also currently serving as a member of the influential ABA Commission on Women in the Profession and previously served as a member of the ABA Commission on Racial and Ethnic Diversity in the Profession as well as the groundbreaking ABA Diversity & Inclusion 360 Commission.
West also was elected and currently serves on the board of directors of the Lawyers' Committee for Civil Rights Under Law as well as the board of trustees of Xavier University of Louisiana.
Listed in Savoy magazine's 2018 list of the 100 Most Influential Black Lawyers, West is the recipient of numerous awards. Some of the recognitions that he has received include: the 2009 In-House Counsel of the Year Award from the National Bar Association; the 2010 Advisory Board Member of the Year from the National Association of Minority and Women Owned Law Firms; the Diversity Collaboration Award in 2016 from the JTB Pipeline Organization; the Beacon of Diversity Award in 2014 from the Black Entertainment and Sports Lawyers Association; the Louis L. Redding Lifetime Achievement Award in 2014 from the Delaware Barristers Association; and a 2014 Minority Business Leader Award from the Washington Business Journal.
West is a graduate of Tulane Law School (J.D., 1986), where he was formerly adjunct professor of trial advocacy, and Southern University (B.A., 1983).
About Duane Morris
Duane Morris LLP provides innovative solutions to today's multifaceted legal and business challenges through the collegial and collaborative culture of its more than 800 attorneys in offices across the United States and internationally. The firm represents a broad array of clients, spanning all major practices and industries.